Do you want to receive our newsletters?   We make this a two step process here to avoid spammers from signing up.  First you must follow the directions below to go to our signup page and follow the directions there carefully.  It's not hard, but we do ask that you be careful to enter things properly so that everything goes smoothly for you.
We also will send you a confirmation email to the address you provide that you must respond to in order to complete the signup process.   This means that you can NOT sign up someone other than yourself since you will not get the confirmation email.  Confirmation emails that are not responded to according to the directions means that the email address supplied does not get added to our list.   This provides an extra measure of security for everyone involved.
Once done, you have complete control over your subscription.   You may subscribe, unsubscribe, and otherwise change your preferences for HTML or plain text emails as you wish.  Every email we send from the list includes links at the bottom for you to manage your subscription.  We NEVER sell your email address, nor reveal any other data about you.   All information provided to us is held secure and only for the use of STL3, Inc. in support of our events and organization as stated.
IMPORTANT: To prevent email from us getting filtered off as spam or bulk email, please add STL3ListSender@stl3.Com to your e-mail system's address book.   All mail from us will be sent using this address.  Please note that any mail sent to that address will not receive a reply.  It is used for sending mail by us only and is unmonitored.
If you do not get the confirmation email, double check the email you provide to us.   If your email address you supplied to us is correct, and you still are not getting mail from us, then check with your Internet Service Provider (ISP) in case they are blocking things from STL3.com and tell them to take off the block!  See our "Mailing List Help" link on the left hand menu for more advice.
Remember, now YOU have control as to the inclusion or not in our mailings!
We sincerely hope you like this change and take advantage of this new feature!  If you have any trouble, see the contacts page (link at the bottom) and write to the Webmaster with your issue.
To go to the sign up page, click on the STL3, Inc. Logo appearing below….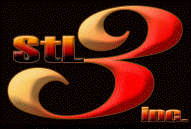 We hope you have not had trouble with getting any of our emails, but if you do, we want to provide the following advice in hopes of fixing any issues.  Please note that many Internet Service Providers, especially AOL, and even Yahoo are often very difficult for even legitimate mailers such as us to get through.  It often requires some form of manual intervention on your part to override their filter systems.  Therefore, we offer the following advice.
If you have additional information about your specific provider that we can include here, please write to the webmaster and we can see about letting others know.
Also, if the advice presented here does not solve your issue, write to us and let us know that too (via the webmaster email address).
Add to Address Book:
Make sure you add the following address to your email address book.   This should be done regardless of if you are using web-based email like G-Mail, Yahoo, one from your ISP (AOL, Comcast, Charter, AT&T, etc.), or other mail programs that reside on your computer directly like Microsoft Outlook, Microsoft Outlook Express, etc.

 All email from our lists, regardless of which ones you have subscribed to, will come from;

STL3ListSender@stl3.com

Please copy and paste this address into your address book by either manually typing, or copying the address above.  Please note that the address is not one you can send mail to, it is not monitored and mail sent to it will not receive a reply.  Please use our other addresses for correspondence.
Check Microsoft Outlook's "Junk Mail" Folder:
If you use Microsoft Outlook to receive your emails you may have a "Junk Mail" folder which Microsoft Outlook automatically filters mail it thinks is mass email or junk mail into.   If messages from us end up in here do the following;

Navigate to the "Junk Mail" folder

Highlight the message by right-mouse clicking on it to make the pop-up menu appear

Highlight "Junk E-mail" on the pop up menu and select the "Mark as Not Junk" option

Check the box for the "Always trust email from 'STL3ListSender@stl3.com'?" question and click the "Okay" button

These steps will move the email back to your Inbox and prevent email from our address from getting trapped again.
Check Yahoo (and other's) "Bulk Mail" Folder:
Services such as Yahoo, or others web-based email often have "Bulk Mail", "Spam", or "Junk Mail" folders.  Please check these if you use a web-based email system.  Follow your individual services process for unmarking the emails as "Not Spam" (Yahoo has a button you can click after opening the message from the Bulk Mail folder).
AOL Users:
Ok… AOL is a particularly persnickety ISP and loves to filter off email from just about anyone that isn't an AOL user practically.   So, if  you use AOL, you will need to see their help pages for how to allow email through.  Much of the same advice as you see above is there, plus some AOL specifics.  Below is a link that will take you to AOL's email Help page for unblocking mail inappropriately marked as spam.  Please note that AOL may filter off our emails even before they are delivered into your Spam filter box by way of domain blocking unless you tell them to allow our emails explicitly.